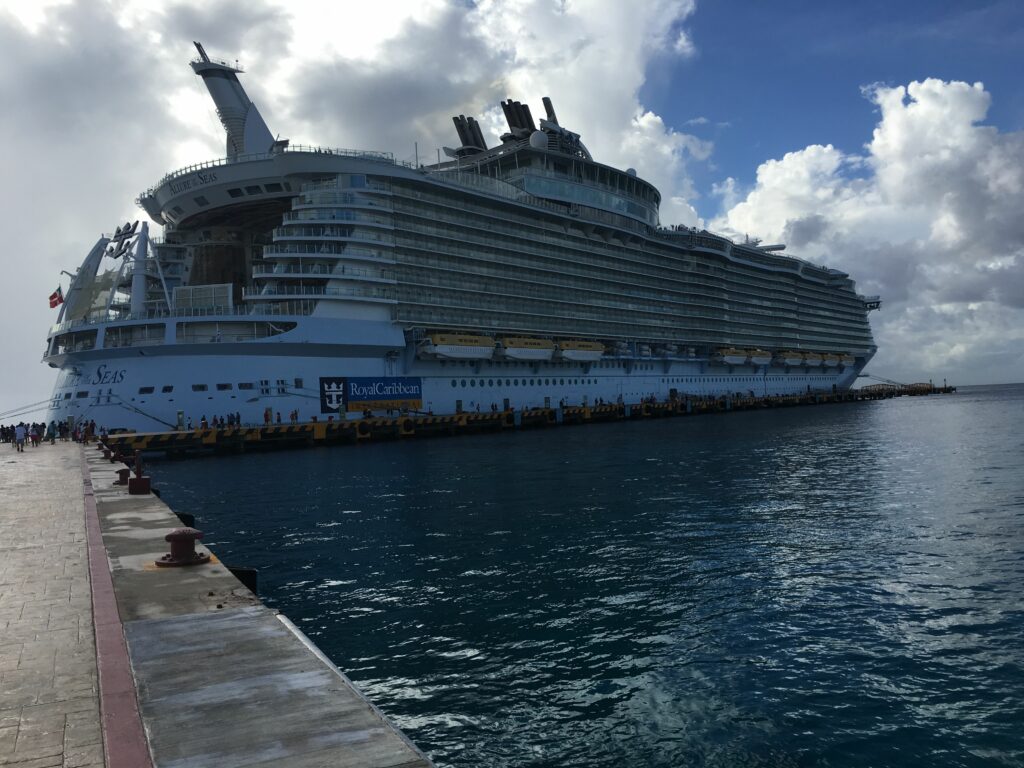 This review and guide is written by Will. Will is a Cruise Packing List Contributor and has Celiac Disease.
---
This original review was written after sailing on Royal Caribbean's Allure of the Seas in 2017. Allure sailed from Ft Lauderdale to Labadee Haiti, Falmouth, Jamaica and Cozumel, Mexico.
Since that time I've taken many Royal Caribbean cruises. Some sections are updated to include new information and tips from more recent cruises.
About me: I have Celiac Disease and as such I must eat a strictly gluten free diet. Not by choice but by medical necessity.
This write up will focus primarily on the food and service we experienced not so much the ship itself or the ports we visited.  However, I would like to briefly say that The Allure of the Seas is beautiful.  It's a massive ship (one of the largest in the world), modern, very well maintained and offers diverse dining and entertainment options.  Even though the ship accommodates 5,000 or 6,000, we very rarely felt cramped.  There is ample room to move around and it was always easy to find a lounging chair.  We've taken a good number of cruises, although this was our first Royal Caribbean cruise.  We were very, very impressed.  Overall, this was our best cruise experience ever.  On to the food…
But First… Fresh First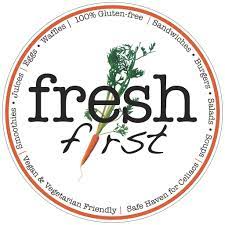 For the reviewed cruise (any many cruises since) we embarked from Fort Lauderdale. Fresh First is a dedicated gluten free restaurant that puts a healthy spin on comfort foods. If you eat gluten free (or even if you do not) Fresh First is worth a visit! The food is delicious and the staff is amazing. I cannot emphasize how great Fresh First is. We've eaten here many times. This is a great place, run by great people… go to this place!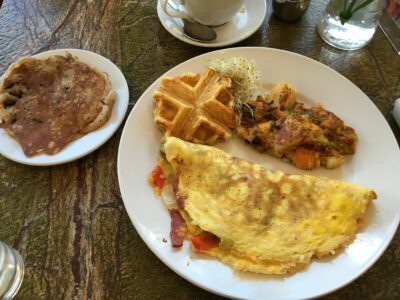 Omelet, Waffle, Griddled Red and Sweet Potatoes and… a Chocolate Chip Pancake.  Just outstanding.  I would nearly hop on a plane to go get another one of these pancakes.  Get the pancake!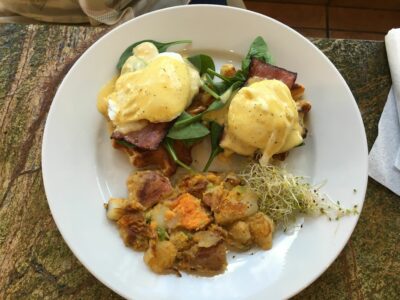 Eggs Benedict with perfectly, I mean perfectly done eggs.  Delicious.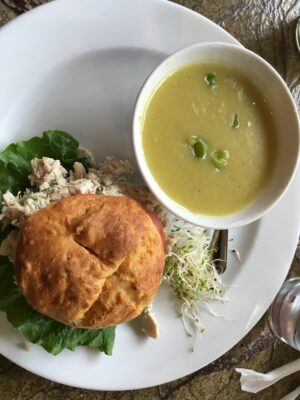 Chicken Salad sandwich – pulled chicken breast, Granny Smith apples, celery, dill and vegan mayo served on a delicious GF bun with potato leek soup.
Royal Caribbean's Allure of the Seas…
Note: I purchased this cruise with my own money.  Beyond that I did not identify myself as a travel writer or contributor to Cruise Packing List.  I was an anonymous full fare paying passenger on this cruise.
Before the cruise
Contact customer service and let them know you need a gluten free meal. This is supposed to be done 90 days before embarkation. My guess is that this factors in to food orders. You can also email [email protected] but I've found phone to be best as email typically takes a long to to be answered.
On the cruise
As someone with special dietary requirements your main point of contact on the ship is generally your head waiter.  They take orders for the next day, answer questions about food on board and can help with special arrangements.  It seems people are generally directed to get with their head waiter after boarding.  I was unable to do that until our first dinner at which time I identified myself as having Celiac Disease.  I asked several questions and got the answers.  Notable things I found out…
I would pre-order main dining room meals after dinner each night.
All specialty dining venues had gluten free options and were considered safe by my head waiter.
When dining at a specialty restaurant, you should ask to speak with a supervisor for assistance.
We had chosen My Time Dining.  Even with MTD, I always had the same head waiter each evening.  Our head waiter, Adina, was one of only a couple female head waiters on that particular sailing.  She was… amazing.  Really, actually, literally amazing.  Keep reading for an illustration of that, but she was amazing.
---
Update: After many cruises I now always choose a set time seating instead of My Time Dining. Getting the same wait staff is important to me. Sometimes getting the same staff with MTD can be a hassle.
---
I don't have a lot of pictures of food, because I have a tendency to want to just eat the food when it arrives, but I did take a few…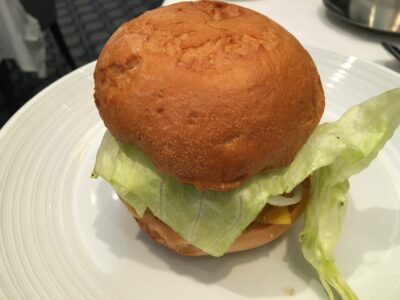 Burger in the main dining room.  Do you ever have those questioning moments, where something looks so good, you're worried that it isn't gluten free.  That was my reaction for the first time I saw this bun.  It was very tasty and, the lab I keep built in to my body 🙂 also confirmed that it was gluten free.
A note about Johnny Rockets: I tried to eat at Johnny Rockets for lunch one day.  Can you, as a Celiac or otherwise gluten intolerant, eat there?  Probably yes.  After speaking with the supervisor I learned that the fries were fried in a shared fryer and that my burger would take 30 minutes because they would bake it.  They also weren't sure if they had a GF bun or not.  So, 30 minutes for a baked burger in a lettuce wrap and no fries?  I appreciate the safety and all of the clear information, but I got up and went to the main dining room.  The Royal Burger is delicious and the fries are safe.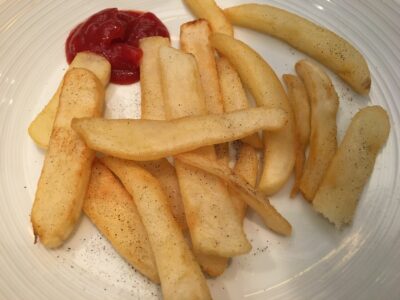 Fries from the main dining room.  Delicious steak-fry cut, fried in a dedicated fryer.  Umm… yes please.
---
Update: I've gotten lots of different types of fries, Sometimes fried and sometimes baked if a dedicated gluten free fryer was not available.
---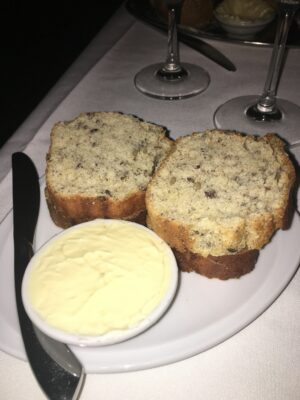 Gluten free bread from our dinner at Chop's Steakhouse.  I had the filet and couple sides and our meal was outstanding.
---
Update: Royal has since gone to pre-made bread… for the most part. What your ship will have exactly… will vary. Sometimes they'll still bake something fresh, but what I've gotten mostly on recent sailings is pre-package bread.
---
Head Waiter Heroics… While we were profusely enjoying our dinner at Chop's I wondered how I would pre-order my meals for the next day.  Towards the end of the meal, our head waiter Adina showed up with the next day's menus.  She had noticed we hadn't shown up in the main dining, looked in the reservation system to find where we were…. dressed up in a Chops uniform and showed up at our table to take my pre-order.  Umm… wow.  That level of care and service is amazing to me.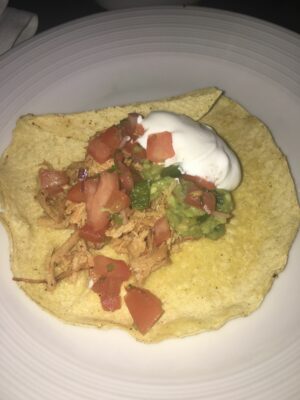 A carnitas taco (with table-side guacamole) at Sabor.  Sabor was our first eating experience on the ship.  Several reviews I read indicated that Windjammer Buffet (Did someone say buffet!?) was the only venue open for lunch on embarkation day.  That's just not correct.  At least on the Allure of the Seas, several venues were open, including Sabor.  The fryers at Sabor are not dedicated, however, they will heat up a kettle of oil when you order and fry you up some fresh chips.  It takes a little while to get the first order, but it's pretty amazing that they do that.  Our food at Sabor was delicious.  Both times we went (one lunch and one dinner) we got table side guacamole.  Great venue with great food!
---
Update: Unfortunately Sabor seems to be on it's way out. On the handful of ships that still have it, table side guac is gone and I've been regularly served hard shell corn tacos instead of soft corn tortillas.  On the plus side, I have had good experiences with what appears to be Sabor's replacement El Loco Fresh. I'll speak with a supervisor to talk about options and ask for food from the back to avoid cross contamination.
---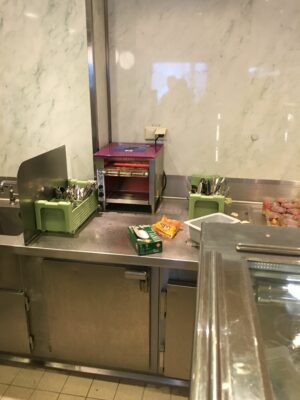 I read great things about the (gluten containing) roast beef sandwich at Park Cafe and I also read it was possible to get a gluten free variation and indeed it is.  After talking to the supervisor… Adel (not that one, but a superstar nonetheless… Thank you Adel) he made me a sandwich himself.  When he started warming up a toaster, I objected asking if that had been used to toast gluten containing items.  He pointed out the sign on the top of the toaster.  You can't see it very well in this photo (click to zoom) but it's clearly marked gluten free.  Nice!  They pulled a fresh pan of roast beef from the kitchen and assembled the whole thing right in front of my eyes.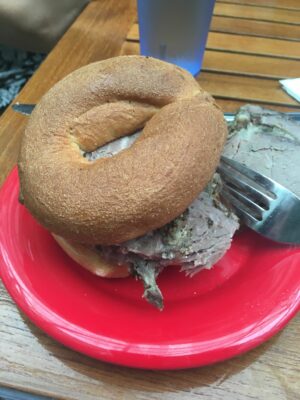 Park Cafe Roast Beef Sandwich on Udi's Bagel.  Pay no attention to the extra roast beef on the side.  I asked for extra roast beef and they obliged.  Delicious GF roast beef sandwich!
---
Update: This has mostly continued to be my experience although on some ships they don't have gluten free bagels and on some ships I have been told the roast beef is not gluten free. Again, always talk to a supervisor
---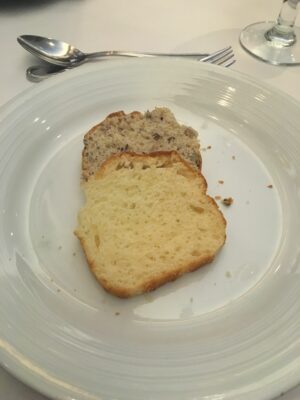 Another plate of gluten free bread I received.  In all, I had three types of bread (not counting buns) on the cruise.  The topmost one was the most common and my favorite, it has some sort of nut in it.  The bottom-most one was good too, it had a combo bread/cornbread feel to it.  The third variety I received (only once), was extremely white and had very little flavor and the texture of styrofoam.  That was only on one occasion and even then, I had two other good choices on the same plate.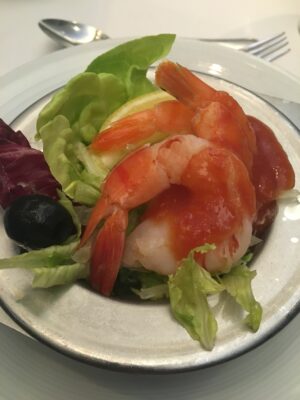 The Royal Shrimp Cocktail was a nightly appetizer for me.  Remember you can order as many appetizers, entrees and desserts as you'd like.  Portions tend to be smaller, so this isn't as bad for you as it sounds.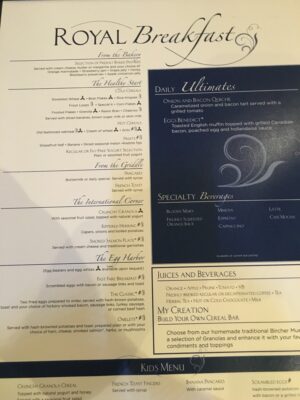 Here is the breakfast menu from the main dining room.  I think it's the same menu daily, at least for the most part.  Do you see gluten free pancakes as an option… no, they are not an option.  Keep reading.
---
Update: The menu has changed multiple times this this first review. Most recently Royal has gone to theme nights for dinners. I have been on multiple sailings when these were in use including the very first cruise that Wonder of the Seas had with the new themed menus. From my perspective these are a step backwards. They're fine, but fewer options are available. Breakfast and lunch menus haven't changed much at least that I've seen. Keep in mind you can also special order items not on the menu.
---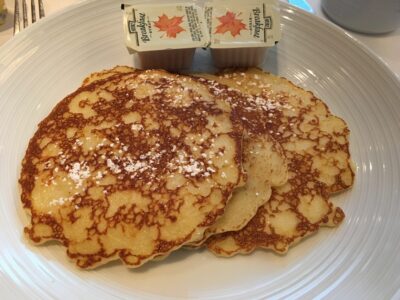 Gluten free pancakes.  Whammo.  Pretty delicious too.  My amazing head waiter special ordered these for me every day.  You could also do gluten free waffles or french toast.  Here's a secret… your headwaiter can make just about anything (food-wise) happen for you.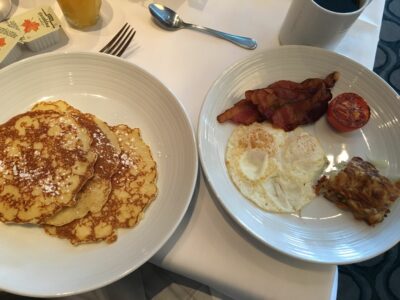 Here's my standard breakfast.  Gluten free pancakes and the "Classic" with eggs over medium, bacon and hashbrowns.
Although I've never seen them on any menu you can also order gluten free french toast and gluten free eggs benedict. The eggs benedict is particularly good if they have gluten free bagels. Otherwise it's usually served on toast, which is okay too.
A visit from Chef Brad… One morning during breakfast one of the Chef's visited my table.  Remember… I did not identify myself as a gluten free blogger or as a writer, at all.  Chef Brad stopped by my table and introduced himself and said that he was one of the Chef's responsible for gluten free cuisine.  He told me how important it was to him and Royal Caribbean.  Gluten free peoples of the world… Where does this happen at??  That's amazing service and it also shows that Royal Caribbean and… Brad really care about gluten free and the health of gluten intolerant people.  Bravo!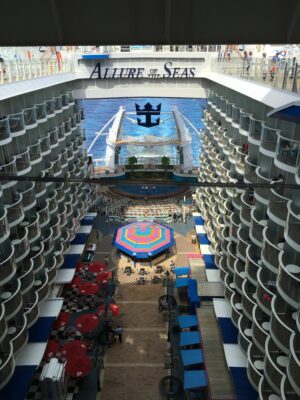 This is an aerial shot of the Boardwalk.  Sabor is toward the end of the Boardwalk on the right side.  "Cups and Scoops" is also on the right side.  It serves cupcakes and Ben and Jerry's ice cream.  I stopped in to Cups and Scoops one day to ask about gluten free options.  The worker quickly listed off gluten free flavors… Yay!  I asked about getting a serving from an unopened and uncontaminated container in the back and the person was unable or unwilling to do that.  I didn't really push it and if I were, I would have asked for a supervisor, like I was supposed to do anyway, and I'm assuming they would have made it happen.
Odds and Ends…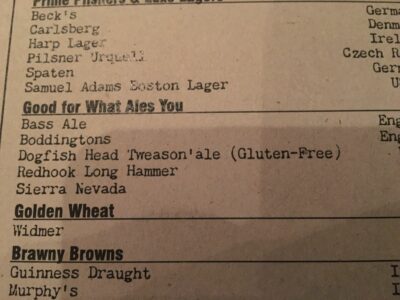 Does Royal Caribbean have Gluten Free Beer?
The answer is unfortunately… No Royal Caribbean does not have gluten free beer. As you can see from the picture from the menu above at one time they served Dogfish Head Tweason'ale which IS gluten free. That is long gone. I haven't seen it since my first gluten free sailing on Royal Caribbean.
What all Royal ships I've been on since service and try to pass off as gluten free is Daura Damm. In spite of what they say… this is not a gluten free beer. Daura Damm is a gluten removed beer.
Is it safe or appropriate for people who eat gluten free as a dietary choice… yeah, probably.
Is it safe or appropriate for people with Celiac Disease or other serious gluten related condition?  No it's not.
In the US Daura Damm cannot be labeled or marketed as gluten free yet this is the only "Gluten Free" beer on many Royal Caribbean ships.
I've contacted Royal about this several times including speaking with the head of food and beverage for the entire line and haven't gotten anywhere.
It's a shame that with so many truly gluten free options out there that this is what Royal chooses. In my opinion, this is ridiculous.
Fortunately there are other options – wine, cider, seltzers and mixed drinks.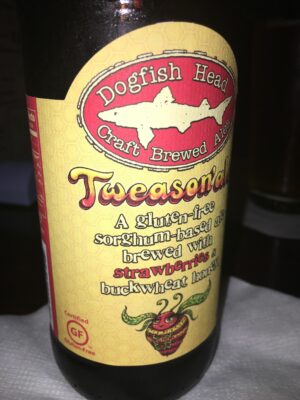 Here it is Dogfish Head Tweason'ale.  Really a pretty tasty beer and actually gluten free. Alas, I haven't seen this served in years. Royal Caribbean please offer a truly gluten free beer.
Labadee Beach BBQ – Food on Labadee, Royal Caribbean's private resort, comes from the ship.  My head waiter told me what was gluten free and directed me to talk with a supervisor at Labadee.  I did so, and the supervisor kindly got me an uncontaminated plate from fresh food.  I had ribs and beans and rice along with some fruit.  I also had the option of pre-ordering a specific meal from the ship.  You can also return to the ship to eat lunch.  Everything is pretty close, so you could do that without too much hassle.
Update: Cococay – I have since visited Cococay many times. The larger buffet options can do gluten free burgers, hot dogs and fries. Some sides are also gluten free. I ordered a gluten free pizza on one cruise and that was a mistake. It was a gluten free crust, sauce, topped with slices of American cheese. Disturbing. The fries and burgers are generally good. Again, talk with your head waiter and supervisor on duty. The Cocoa Beach Club (an admission required club) has had plenty of options. All of our meals at Cocoa Beach Club have been delicious.
Eating at other ports – I usually eat a large breakfast each day before leaving the ship and take along snacks and protein bars.
A note when traveling to foreign countries – This is an important tip.  The formula for products you know and are familiar with can be region specific.  For example, Ruffles and Doritos are (as of this writing) gluten free in the sense that they have no gluten containing ingredients.  That's in the US.  All bets are off when you hit the border.  I almost purchased and consumed both Ruffles and Doritos while in port at Cozumel.  FORTUNATELY…. they both called out the fact that they have gluten in the ingredient list.  Why would Ruffles have gluten in them?  Why?  Ruffles and Doritos in Mexico are… unsafe.  Keep the fact that formulations can change by region in mind when you are traveling.
Udi's Single Serve Cookies – Promenade Cafe usually has Udi's cookies.  You just need to ask at the counter.  I received both chocolate chip and snicker doodle and both were nice snacks.
Sorrento's Pizza – On this first cruise I did not try the pizza. Since I've eaten at Sorrento's several times with great results. Again, talk to a supervisor to see what your options are and double check that they can prepare safely on your ship.
Chops Steakhouse – Chops is great! Plenty of protein options available. I will say that at times I struggle at Chops with sides and desserts. Options can be limited. I recommend visiting the day before your reservation to talk about options and pre-order items if appropriate.
Izumi – I have been able to eat at Izumi many times and love it. Again, always let them know what you're dietary needs are and they will let you know what your options are.
Windjammer Buffet – When I eat at the Windjammer I ask for a Chef. The Chef will walk around with you and let you know what's gluten free. After deciding what I want I typically ask the Chef to get it from the back so that it's not cross contaminated.
Special Ordering Food
You generally are not limited to what is on the menu. You can special order something off menu. This is true for anyone, not just people with dietary needs or allergies.
You do need to do this at least a day in advance and… be flexible. Not everything will be available or possible. Again, your head waiter is the person to talk to about this.
Gluten free pancakes/blueberry pancakes
Gluten free french toast – I ask for a gluten free bagel
Hash browns – these are one of the trickiest things for whatever reason. Sometimes they say the standard hashbrowns are gluten free, sometimes they say the standard hash browns need to be special ordered and sometimes they so no hashbrowns are gluten free. If you have a problem with this you can pre-order hand made hash browns.
Chicken Cordon Bleu – mine appeared to be baked, it wasn't great but it was Chicken Cordon Bleu
Fish and chips
Onion rings – I haven't tried this one myself but I've been told by others this is possible
Cheesecake
Mushroom soup – this goes back and forth between being gluten free by default and not gluten free. If their current recipe is not gluten free I have been able to pre-order a gluten free version.
What else, leave a comment and I'll add it to the list so your fellow gluten free cruisers know what options are available.
Jerk Seasoned Pork Chop – this is another tricky one. More often than not when I've pre-ordered this I've gotten a plain grilled pork chop with gravy on it. Zero things are jerk flavored about it and it's generally not even the same cut of pork chop, thin vs a nice thick cut. If you try to pre-order this, bring up the cut of meat and the specific preparation to your head waiter. It is possible to get something a lot closer to what's on the menu but you need to talk to them about specifics.
Royal Caribbean Quick Tips
Make sure and request a gluten free meal 90 days prior to your cruise. Also let reservations know of any other food allergies or requirements.
Email

[email protected]

with special requests or questions
Talk to your head waiter about options and to pre-order meals for the following day.
Always speak with a supervisor when ordering outside the main dining room/MDR
Visit specialty restaurants the day before your reservation to go over options and pre order if appropriate.
If you don't see something you like on the MDR menu, you can special order off the menu.
Final Thoughts…
This was an amazing vacation that I would relive in a heartbeat.  I was encouraged that a company would take my eating limitations so seriously.  Royal Caribbean does gluten free right.  Thank you to RC and to your awesome staff!  You've won a lifelong customer.
Be kind, thankful and generous… Let's face it folks, we are non-gluten eaters in a gluten filled world.  It takes extra care, effort and cost to safely serve us.  A main concern we have is eating safely.  Be kind and thankful to those that are going out of their way to serve you.  Spread the word about great companies like Royal Caribbean and be generous.  We left the automatic tips on our account and then tipped an extra cash amount directly to our entire dining room staff.  How much is it worth to you to feel well for an entire week of eating away from your home.  For me, that's worth a lot.
Thank you Royal Caribbean and keep up the amazing work!  You went beyond my expectations and I look for to returning.
Update:
After years of cruising gluten free and many gluten free sailings on Royal ships I do think Royal Caribbean has become less friendly to people who need to eat gluten free. Menu markings showing gluten free items are gone. They no longer have gluten free beer, With the new themed menus there are fewer options and I really feel like staff have less training and knowledge of gluten free than they had when I first sailed after being diagnosed. That's too bad. I hope this trend reverses.
Having said that, I still believe Royal Caribbean does a great job overall and a good job serving gluten free.
A Great Resource For Gluten Free Cruisers…
Cruising Gluten Free is a great resource for gluten free cruising. Lots of helpful members that can answer questions and help.
Related:
---
This article may contain affiliate links. We may make a small percentage if you use our links to make a purchase. You won't pay more and you'll be supporting Cruise Packing List and more content like this. Thank you for your support!
---